EVERYTHING A BABY BOOMER SHOULD KNOW
Ways to Buy: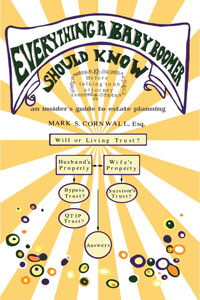 Through Amazon.com






---------------


Directly through Baby Boomer Publishing

(ships w/in 3-5 business days)




---------------

Locally in Santa Barbara:

Chaucer's

Borders Goleta

Borders Santa Barbara

Tecolote
An Insider's Guide to Estate Planning



THE NEWEST APPROACH
TO ESTATE PLANNING:

KNOW WHAT YOUíRE TALKING ABOUT!


&nbsp&nbsp&nbsp Why pay money so an attorney can try and explain the difference between a Bypass Trust and a QTIP Trust, when this book will answer that question long before you have to pay for a consultation?

&nbsp&nbsp&nbsp This guidebook helps you map out your estate plan so it goes exactly where you want it to go. It explains the tools you need to give away or preserve your money, homes, businesses, heirlooms, cars, boats, jewelry, tools, art, memorabilia, and every other artifact of life you have accumulated over the last 45 to 65 baby booming years.


(Proud Father of the Bride)

Mark S. Cornwall, Esq.
210 E. Figueroa Street
Santa Barbara, CA 93101